|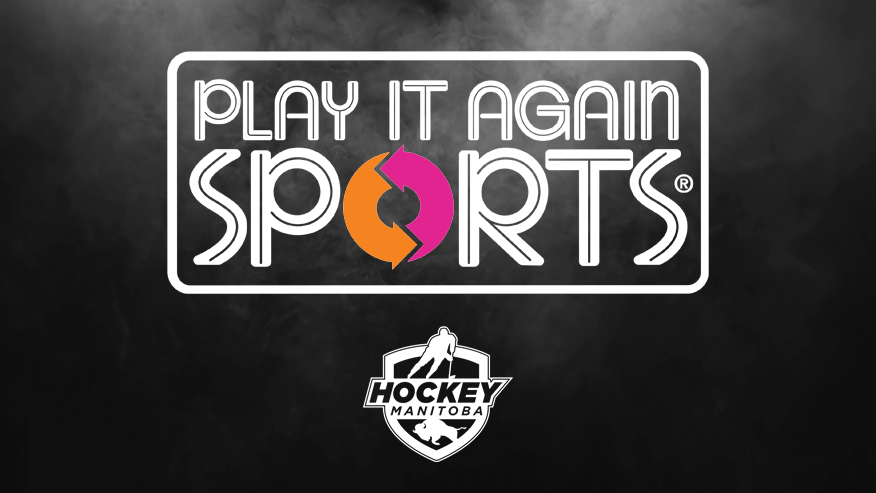 New partnership to focus on Growing the Game
WINNIPEG, MB – Hockey Manitoba is pleased to announce a new agreement with Play It Again Sports (Winnipeg South) to become an official partner.  The three-year partnership will also recognize Play It Again Sports as Hockey Manitoba's official retailer.
"We are extremely pleased to align with a long-standing and respected Manitoba owned and operated business such as Play It Again Sports.  Hockey Manitoba continues to emphasize grassroots hockey development, and this partnership will help us pursue our ultimate goal of growing the game at all levels," comments Scott Furman, Hockey Manitoba's Director, Operations.
In addition to supporting branch development programs and grow the game initiatives, the partnership will create a number of membership opportunities including access to equipment, jerseys and team apparel at exclusive pricing for Hockey Manitoba member Minor Hockey Associations and teams from across the province.  Further details will be announced in the near future.
Greg Vermette, owner and operator of Play It Again Sports – Winnipeg South, exclaims, "As a trusted source of new and used sports equipment in Winnipeg for nearly 30 years, Play it Again Sports is thrilled to become an official partner with Hockey Manitoba.  We believe both organizations working side by side will only benefit the local and provincial hockey community, and help to continue the growth of our great game."
Play It Again Sports becomes Hockey Manitoba's fourth official partner – joining Canad Inns, Cargill Ltd. and CCM Hockey.  Visit www.hockeymanitoba.ca for current news, information & events or connect with Hockey Manitoba on Facebook, Twitter, Instagram and YouTube.
About Play It Again Sports
Play it Again Sports is a locally owned sporting goods franchise store, founded in Minneapolis, MN in 1983. It specializes in buying and selling of new and used sports equipment.  There are over 250 stores across North America.
Play it Again Sports Winnipeg South first opened on Meadowood Drive in St. Vital in 1991. They have since expanded twice, to the current location at 730 St. Anne's Road.  They carry a wide variety of sports gear, including hockey, baseball, soccer, golf, ringette, football and inline skates.  They focus primarily on hockey, and are proud to be able to offer every price point in new and used gear, helping to keep the game affordable for everyone.
Visit www.playitagainsports.com/locations/winnipeg-mb-south for more information.
Share