|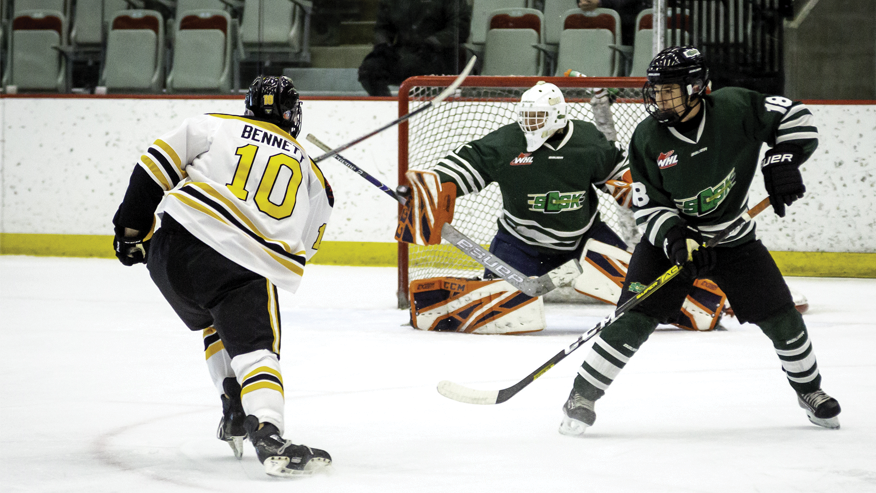 CALGARY, AB – Team Manitoba (2-3) was looking for its first ever WHL Cup Championship on Sunday at Winsport Centre but it was resilient Team Saskatchewan (2-3) who ultimately came out on top, claiming their first ever WHL Cup championship.
Tye Spencer put Team Saskatchewan on the board with the only goal of the first period, but Brandon Wheat Kings draft pick Tyson Zimmer replied for Manitoba 3:30 into the middle period to even up the game.
The first two power-play opportunities of the game went Saskatchewan's way in the second period and they didn't waste either chance. With Manitoba in the box, Vaughn Watterodt converted with 11 seconds left in the man advantage to push Saskatchewan up 2-1. Put on the power play 19 seconds after the 2-1 goal, Saskatchewan took advantage again as Olafson's goal doubled their lead.
With 6:37 left in regulation, Strathclair's Conor Geekie pulled his province within a goal. In a tournament filled with late-game comebacks and crazy finishes, there would be no flipping of the script this time as Saskatchewan's Eric Johnston potted an empty-net goal with 20 seconds left in the third period, clinching the victory.
Saskatchewan goaltender Dylan Ernst earned his second win in as many days, stopping 21 of 23 shots.
Manitoba Goaltender Ethan Buenaventura stopped 25 of 28 shots in the loss.
Click here for the boxscore.
After the game, the WHL Cup All-Star Team was announced and both Conor Geekie (three goals, four assists) and Denton Mateychuk (three goals, four assists) were named to the team.
For more stats and information on the WHL Cup, click here.
Share