October 22, 2019 10:42 am

|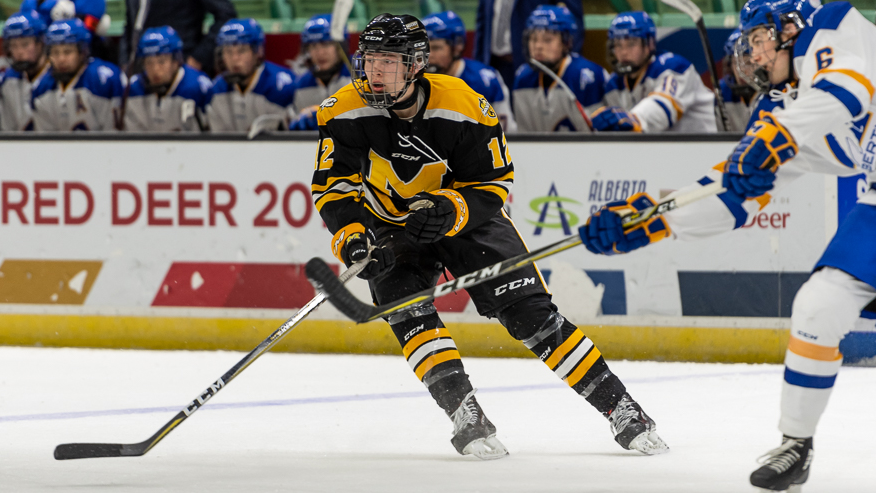 WINNIPEG, MB – Hockey Manitoba's U-16 Program of Excellence Team kicks off the 2019 WHL Cup in Calgary tomorrow (Wednesday) with a game against Team Alberta (7:00 pm CT Puck Drop). The U-16 team will play two more preliminary round games on Thursday and Friday against BC and Saskatchewan which will be followed by the Semi-Finals and Finals to be played on Saturday and Sunday (Manitoba's game schedule is listed below).
On Monday evening Team Manitoba announced its leadership group for the WHL Cup with Conor Geekie (Yellowhead Chiefs, Midget AAA) named as Team Captain (C). The alternate captains who will wear an "A" on their jerseys will be; Denton Mateychuk (Eastman Selects U18 AAA), Luke Robson (Southwest Cougars U18 AAA), and Ryder Thompson (RHA).
"Team Manitoba is very fortunate to have a leader like Conor who has valuable experience from his participation with the U16 team at the 2019 Canada Games in Red Deer," said Team Manitoba Head Coach Jeff Sveinson. "We have a room full of great young men who are all capable of being part of our leadership group but we have chosen four players who all provide leadership in their own way. Conor is a natural leader who keeps the team relaxed with his sense of humor and easy-going nature. Denton, Luke, and Ryder lead by example with their skill, determination and their remarkable understanding of team tactics and concepts."
U-16 Team Manitoba includes twenty (20) players with two (2) goaltenders, seven (7) defensemen and eleven (11) forwards. Team Manitoba features the province's top male players born in 2004 including eighteen total 2019 WHL Bantam Draft picks. Jeff Sveinson (Winnipeg) leads U-16 Team Manitoba behind the bench with Jordan Sobkowicz (Winnipeg) and Jordan Wohlgemuth (Winnipeg) serving as assistant coaches.
Be sure to visit the Team Manitoba Headquarters for full roster, player profiles, schedule, scores and stats!
Team Manitoba's 2019 WHL Cup Game Schedule:
*all games will take place at the Markin MacPhail Centre – WinSport (Calgary, Alberta)
Wednesday, October 23
Alberta vs. Manitoba – 7:00 pm CT

Thursday, October 24
BC vs. Manitoba – 4:00 pm CT

Friday, October 25
Manitoba vs. Saskatchewan – 4:00 pm CT

Saturday, October 26
Semi-Final #1 (3 vs. 2) – 1:00 pm
Semi- Final #2 (4 vs. 1) – 4:30 pm
Sunday, October 27
Bronze Medal Game – 9:30 am
Gold Medal Game – 1:30 pm
About the WHL Cup:
The majority of players participating in the event will have been selected in the 2019 WHL Bantam Draft or have since been listed by WHL Clubs. The WHL Cup, formerly known as the Western Canada U16 Challenge Cup, has been sponsored since 2009 by the WHL and has been made possible through financial support provided by the WHL, Hockey Manitoba, BC Hockey, Hockey Alberta, Saskatchewan Hockey Association and Hockey Canada.
This year will mark the eighth year of the event. The first ever WHL Cup was held in Blackfalds, Alta., in 2009 and featured four of the top eight players selected in the 2012 NHL Draft. In 2010, the WHL Cup was not contested due to the Canada Winter Games. In 2011, the Moose Jaw Warriors and Saskatchewan Hockey Association hosted the event at Mosaic Place in Moose Jaw, Sask. In 2012, the tournament was hosted in Calgary at Father David Bauer Arena, the home of the WHL. In 2013, the tournament was again hosted in Calgary at Father David Bauer Arena. In 2014 and 2018, the WHL Cup was not contested due to the Canada Winter Games. Since 2015, the WHL Cup has been hosted in Calgary at the Markin MacPhail Centre.
Team Alberta is a five-time champion of the WHL Cup, hoisting the trophy in 2009, 2011, 2013, 2015 and 2016, while Team British Columbia won the event in 2012 and 2017.
Share