|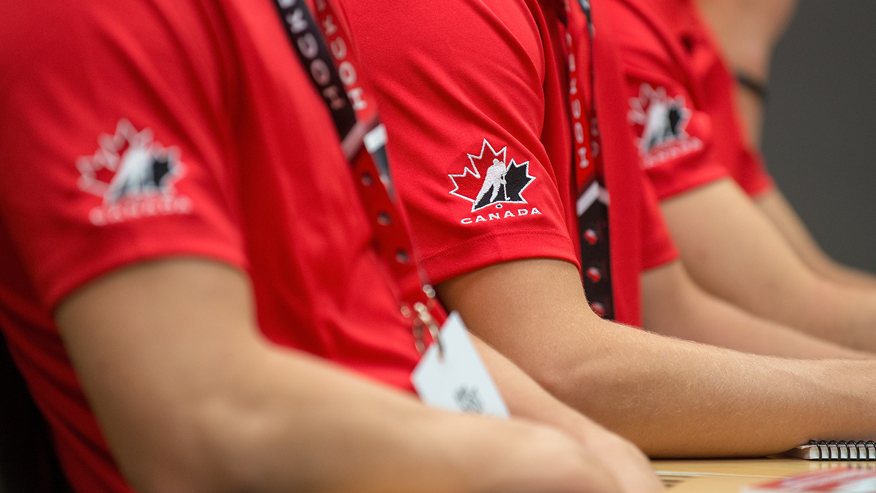 CALGARY, Alta. – Hockey Canada has announced the roster of 43 players who will wear the Maple Leaf at Canada's National Junior Team Sport Chek Summer Development Camp, July 27 to Aug. 4 in Plymouth, Mich.
The five goaltenders, 13 defencemen and 25 forwards will be split into two teams – Red and White. The Canadians will play four games in Plymouth, taking on the United States twice in addition to singles against Finland and Sweden.
Brad McEwen (Whitewood, Sask.), head scout for the Program of Excellence, and POE management group member Mark Hunter (Petrolia, Ont./London, OHL) put the roster together, and will continue to monitor the athletes through the start of the 2019-20 season ahead of Canada's National Junior Team Sport Chek Selection Camp and the 2020 IIHF World Junior Championship in Ostrava and Trinec, Czech Republic.
"We're very pleased with the group that will be brought together in Plymouth," said Shawn Bullock, director of men's national teams. "This is a development opportunity for some of the younger athletes, and it's a great opportunity for our coaching staff and players to start developing a solid relationship ahead of the World Juniors."
The roster for Canada's National Junior Team Sport Chek Summer Development Camp includes:
Six players who were a part of Canada's 2019 National Junior Team at the 2019 IIHF World Junior Championship (Dobson, Hayton, Lafrenière, McIsaac, Smith, Veleno)
15 players who participated in the 2018 Sport Chek World Junior Showcase in Kamloops, B.C. (Addison, Bahl, Bernard-Docker, Dellandrea, Dobson, Foudy, Hayton, Lavoie, McIsaac, Noel, Rodrigue, Smith, Thomas, Veleno, Woo)
Eight players who won gold with Canada's National Men's Summer Under-18 Team at the 2018 Hlinka Gretzky Cup (Barron, Byram, Cozens, Dach, Krebs, Lafrenière, Schneider, Suzuki)
Of the 43 players, 26 were selected at the 2018 NHL Entry Draft, 15 hope to have their names called at the 2019 draft this weekend in Vancouver and two are eligible in 2020.
For more information on Hockey Canada and the Program of Excellence, please visit HockeyCanada.ca or follow through social media on Facebook, Twitter and Twitter.com/HC_Men.
Share