February 24, 2021 10:00 am

|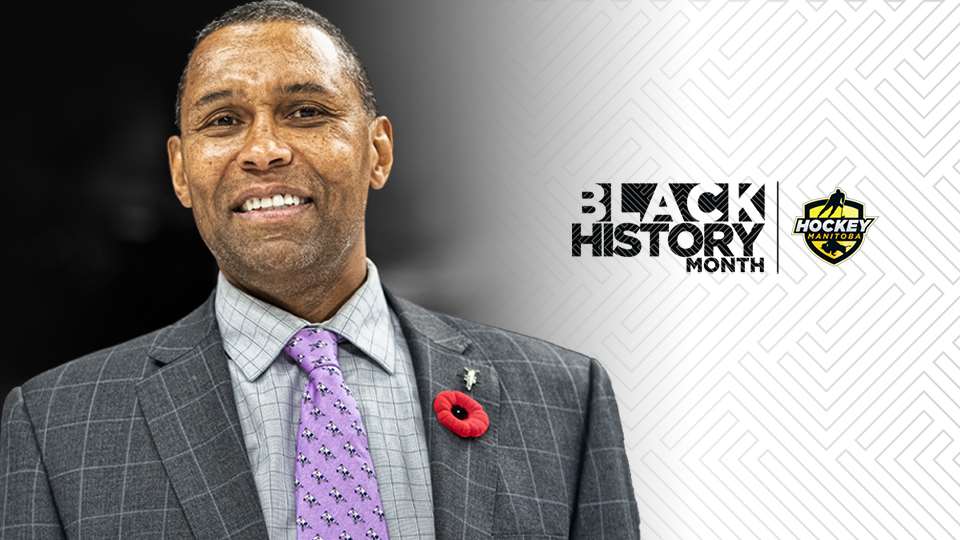 As a player and a coach for the last 30 years, Paul Jerrard is well-versed in the ways of the game.
A 10-year journeyman as a player (including five NHL games with the Minnesota North Stars in 1988-89), Jerrard has criss-crossed North America as a coach since 1997, working in the American Hockey League and National Hockey League (with Colorado, Dallas and Calgary) before landing at the University of Nebraska-Omaha, where he is in his third season as an assistant coach.
Hockey Manitoba caught up with Jerrard, one of the few Black coaches in the game, to talk about his career path, the future for BIPOC coaches and what he would say to the next generation.
HM: What was your experience like growing up in Winnipeg and playing hockey?
PJ: I was just like any other Canadian kid. You fall in love with the game because you watch Hockey Night in Canada. Winnipeg is cold, and hockey is a winter sport. [My dad] got me into hockey at an early age. I just really had a great passion for the game. Between playing the game on-ice at the local community club and watching the game on TV, it helped me fall in love with the game.
HM: What made you decide to go into coaching after your playing career ended?
PJ: I had come off a 10-year playing career in the American Hockey League and the old International Hockey League, and when I was in the twilight of my playing days I was always intrigued by the coaching profession and wanted to try it out. My last year playing I was 32 years old and married with two kids, and I actually had one more year left on my contract, but [I got] a great opportunity to go back to my alma mater [at Lake Superior State University] and start my coaching career. I said, 'Hey, I have a great opportunity now that may not be there [in the future]' so I decided to get into coaching.
HM: When you were an assistant coach with the Calgary Flames from 2016 to 2018, you were the only Black coach behind a bench in the NHL. How can we make the game more diverse and have more coaches that are people of colour – not just at the pro level but at all levels?
PJ: You have to get people started at the grassroots level a little bit more. I was pretty lucky, because one thing I did have after I was playing in the minors was a little bit of credibility as a player; people had known about me so I was able to jump in and build and build and continue to build relationships. I was very, very fortunate to get an opportunity in the National Hockey League. Calgary was my third and final stop in the National Hockey League, but it was all about building. I think we have to entice more people of colour at earlier ages to get involved in the game and stay involved in the game.
HM: On Nov. 30, 2018, the University of Nebraska-Omaha played Colorado College, marking the first-ever regular-season meeting between NCHC schools with Black coaches – yourself and Leon Hayward. Just more than two years later, what does that historic moment mean to you?
PJ: I really never thought about it that way, but after the fact it's kind of a neat thing. I felt honoured to be part of the whole thing. We were both very fortunate to be in the positions that we were in, but also to be in a position where we can be a little bit of an inspiration or a beacon of hope for people of color who want to get into college hockey and higher levels of hockey.
HM: How far do you think the hockey world has come in terms of combatting racism?
PJ: You see more and more players of colour in the game now than back when I was growing up, which I think is great, but it starts long before that. You have to start with the grassroots programs, getting more people of colour involved at that end. As time goes on, you're going to get more people of colour playing the game and more people of colour advancing in the game and more people of colour getting to the National Hockey League. You take a look when I was growing up, I was one of 12 or 15 kids on my youth hockey team, so it wasn't like there were a bunch of Black kids on youth hockey teams. There were very few people of colour around. That's probably why you're seeing very few people of colour playing in the National Hockey League. Every level you look at, hockey is a predominantly white sport. The number-one thing here is the economics, and ensuring the game is accessible to everyone, regardless of their background.
HM: What would your message be for young Black coaches or people of colour who want to get involved in coaching?
PJ: I would hope that seeing coaches like myself [helps], or you see Mike Grier on benches now, or you see Joel Ward, [who] is starting off in the American Hockey League. If you have a dream, stick with your dream, because at the end of the day that's one of the things we all did. We weren't going to be denied. You have a dream, but you also have to do the work. I look back at my career now, and I was very fortunate to have a lot of good people that helped me, but I also did quite a bit of work to get myself in those positions.
No one can change the past, but we can help [this generation] become more racially aware and more respectful of all races and genders, including the LGBTQ+ community. We can be tolerable and be a society that can live and co-exist together and respect everybody's individual differences. When I take a look at my job as a father, a husband, a coach and a role model, I just want to make sure I'm portraying that to my players; hopefully, they can bring that out into the world and they can see the way I handled things as a role model and inject some of that positivity and tolerance amongst other people. That's how it's going to get better over time.
Share