|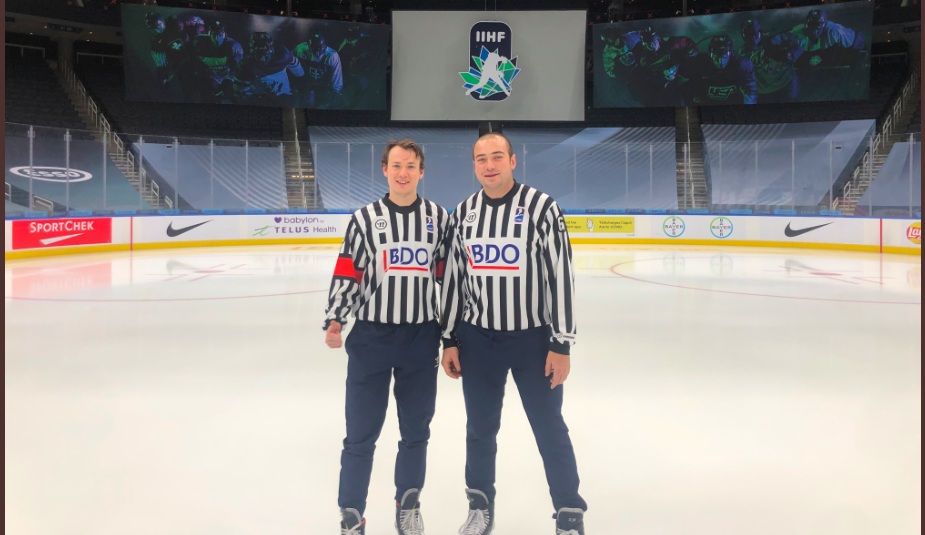 Winnipeggers Brett Roeland (referee) and Kelsey Mahoney (linesman) returned last week from the 2021 World Junior Hockey Championship in Edmonton where they both represented Hockey Manitoba and their experience is something that the two veteran officials say they will cherish for a very long time.
After arriving in Edmonton on December 13th, Roeland and Mahoney were both required to quarantine for five days as per Hockey Canada/International Ice Hockey Federation protocols. Because players from Team Germany and staff from Team Sweden tested positive for COVID-19 on December 18th, the number of pre-tournament games was reduced to one per country before the tournament officially began on Christmas Day.
"The hope was to work a pre-tournament game or two and get the legs under you and get your mind back in hockey and start seeing the game again but when all those positive tests happened, I actually only got to work a single period of hockey before jumping into the actual tournament." Roeland said.
Both Roeland and Mahoney worked one period of the Canada/Russia pre-tournament game on December 23rd while Mahoney also lined one period of the Finland/USA pre-tournament game on December 22nd.
In total, Roeland worked three preliminary round games plus the semi-final game between Canada/Russia while Mahoney worked three preliminary round games plus the quarter-final game between Canada/Czech Republic.
"Obviously the goal for every official that goes there is to work the gold medal game so working the Canada/Russia semi-final was kind of as important as it gets in the tournament," Roeland said. "I was nervous and anxious to get out there for sure but I was also aware of what an opportunity it was so I was very excited to be able to participate in a game like that. Even without the fans, stepping on the ice for a Canada/Russia game is as big as it gets essentially."
Mahoney has lined many games in the Western Hockey League and the American Hockey League but he says the hockey at the World Juniors was by far the fastest hockey he has ever worked.
"The quarter-final game was 60 minutes but it felt like you were on the ice for 20 minutes. It just flew by because the hockey was just so incredible," Mahoney recalled. "Any other year, Canadian officials wouldn't work their home country as per IIHF rules, so to get the opportunity to ref the top 18 to 20 year olds in the world was incredible and to get the opportunity to line the Canada/Germany game and then Canada's quarter-final game was such a cool experience and something I will never forget."
Mahoney and Roeland have been friends for a long time and they spent a considerable amount of time together off the ice in Edmonton and they both say that sharing that experience with each other was special.
"Kelsey is such a supportive guy and to have that voice with me throughout the tournament was extremely helpful. Later in life, I think we're both going to get together and it's going to be something that we look back on as an unforgettable experience." Roeland said.
"It was just really cool to be able to share it with another Manitoban and to have all of that support from back home." Mahoney said. "I can't remember the last time that has ever happened at a tournament of this caliber so it was just really neat to represent our province. Hopefully for the officiating program in Manitoba, this brings more people in that want to ref the game of hockey."
Share