|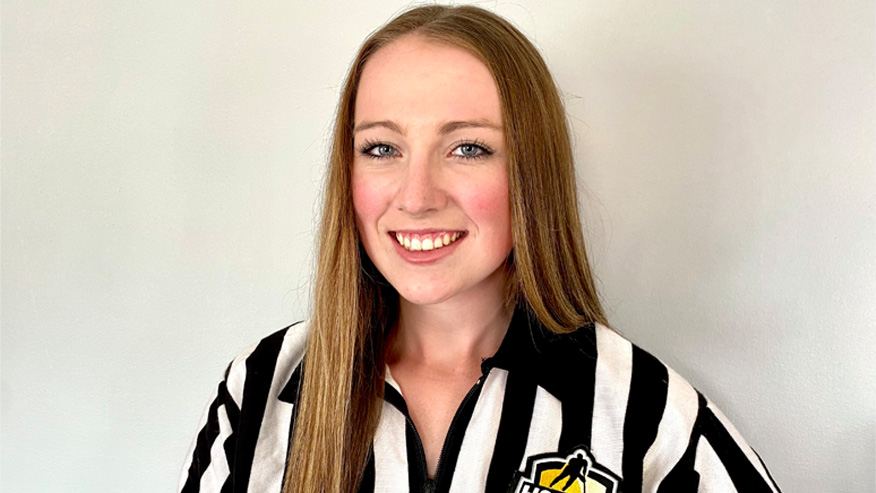 Hockey Manitoba official Lauren Fox (Creighton/Flin Flon) is one of eight recipients of the Kenneth R. Stiles Memorial Scholarship for the 2020 – 2021 season. The scholarships are awarded annually to both male and female members of the Hockey Canada Officiating Program.
"At first I didn't really process it but then I was like oh wow I got it then I was like only eight people got it and it's a national thing. It's just weird to me that of all people I got it." Fox said.
Fox, 19, recently completed her first year of studies at the University of Alberta – Augustana Campus in Camrose where she is working towards her Bachelor of Science degree, majoring in Chemistry.
Fox is a Level III official who officiated for five years in the Flin Flon region before attending university. She officiated two games in Camrose during the 2020 – 2021 season before it was abruptly shut down but she plans on returning to officiating for the 2021 – 2022 season. Fox was a role model for other young female officials in the Norman region.
"I am just really grateful that I have received so many opportunities, especially officiating in the north," Fox said. "There's a need for referees so I have been able to get a lot of experiences and learn from lots of people. I think that's allowed me to take it to where I have. I honestly wouldn't have become a ref if I didn't have as big of a support system as I did because for a long time I was the only girl ref in Flin Flon. It was hard but you have the big support system so it helps a lot."
That support system includes Flin Flon MHA Referee-in-Chief Harvey Bolton and Lauren's older brother Brad, who is also a Hockey Manitoba official. She credits them for showing her the ropes and guiding her as she progressed through the officiating ranks.
"I would really like to take officiating further and obviously school is my number one priority but I just really love the game of hockey and reffing allows me to stay in the game and stay active," Fox said.
After Fox earns a Bachelor of Science degree, she plans on continuing her education in dentistry or pharmacy.
Share