|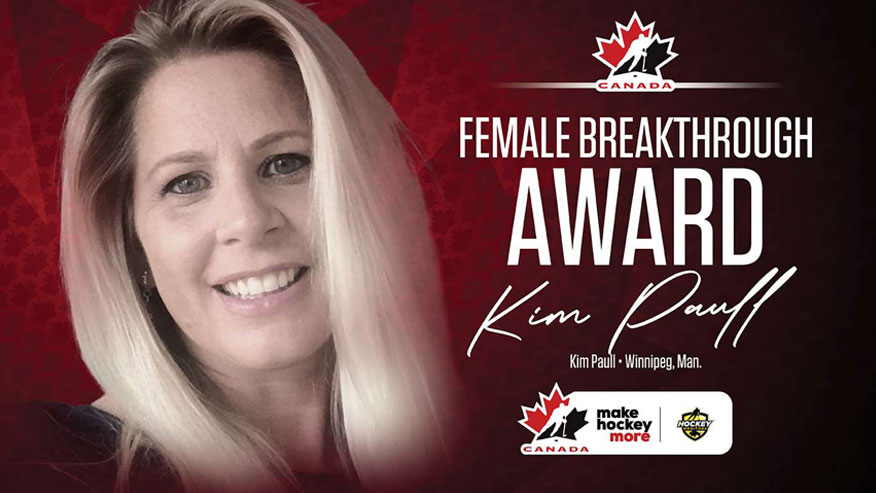 In just a few short years, Kim Paull has established herself as an instrumental member of the Hockey Manitoba Board of Directors, helping to grow women's hockey programs while bringing a fresh outlook to the game.
Starting at the grassroots in Macdonald, Man., Kim volunteered as a team manager and helped recruit players for the first-ever under-7 girls-only team in 2016-17. She also organized development sessions lead by women. The following season she was the Macdonald women's director, taking a leadership role in an Esso Fun Day within the minor hockey association, while outside of her own organization she created the Perimeter Female Hockey Alliance, an exhibition U7 girls-only league.
Her ascension through the hockey ranks continued as she became a Pembina Valley vice-director from 2018-20, hosting grassroots jamborees for girls aged 2-6. She also worked closely with the director to create leadership positions for women in coaching and administration. From there, she moved onto the Manitoba Female Hockey League as secretary, founding the Hockey Manitoba Female Coaching Mentorship Program.
Kim's visionary leadership and passion for the game has created countless other improvements and opportunities for girls and women in the game throughout Manitoba. And her success with everything she touches is leading to a bright future for the women's game.
Under the leadership of Kim, there is no telling how far women's hockey in Manitoba will go.
Share