|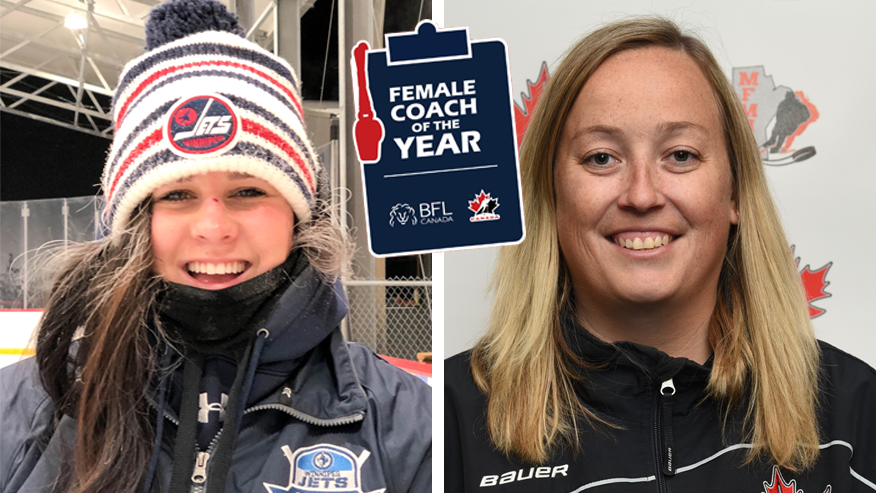 BFL CANADA and Hockey Canada announced today that Ashley van Aggelen has been named Manitoba's 2020 BFL Female High-Performance Coach of the Year Award winner and Nicole McAlpine has been named Manitoba's 2020 BFL Female Community Coach of the Year Award winner.
The BFL Female Coach of the Year Awards recognize and honor coaches who exemplify the positive values of hockey and sport, for their successful and outstanding achievements in player development and the leadership of their players and teams.
The BFL Female Coach of the Year Awards honor one female community coach and one female high-performance coach in each province who have made outstanding contributions over an extended period of time coaching hockey programs within Hockey Canada female and/or minor hockey programs.
Both Ashley and Nicole will be awarded a cash bursary of $1,000.
Ashley van Aggelen just completed her ninth year as Head Coach of the Winnipeg Avros in the Manitoba Female U18 AAA Hockey League, including coaching in her 500th game with the Avros this year. The Avros finished the 2019-2020 regular season in 1st place with a 22-3-3 record and were scheduled to play The Winnipeg Ice in the Provincial Final before the season was cancelled due to the COVID-19 pandemic. Ashley began coaching in 2000 after playing four years for the University of Manitoba Bisons Women's Hockey Team. Ashley has been the Head Coach of the U18 Provincial team three times, including being the Head Coach for the U18 Provincial Team that captured a Silver medal in 2012 in Dawson Creek, B.C.  Ashley was also an Assistant Coach for U18 Team Manitoba in 2008 (bronze medal) and Halifax for the Canada Games in 2010.
"I'm super honoured. You put in a lot of hours and you just want to see your players succeed and to know that they feel that I have had some sort of impact in their life and that they have taken the time to nominate me makes me obviously feel very special," Van Aggelen said. "It's definitely going to be one of my proudest moments outside of my 500th game with the Avros this year. I'm just really full of gratitude with the fact that it was past and present players and families that did the nominating."
Nicole McAlpine has been a coach with the Winnipeg Jets Hockey Academy (WJHA) since 2015 and has been coaching ringette and hockey for over 10 years, including coaching with the WJHA's joint program, the St. James Assiniboia Hockey Academy (SJAHA). Nicole joined the True North Youth Foundation (TNYF) full-time in 2017 and has coached Peewee and Bantam girls teams through the WJHA, completing the Hockey Canada Skills Academy Seminar, and now becoming a head coach for the WJHA. Nicole has also taken on the role of managing the TNYF social media accounts for the WJHA. Nicole has given back so much to her community through her work with TNYF and her positive impact on her players stretches well beyond the ice surface as she has been a role model and mentor to so many young girls.
"I am very grateful and I feel honored to be recognized as the BFL Female Community Coach of the Year for Manitoba, " McAlpine said. "I have put so much time and energy into my coaching these past few years so this award really means a lot to me. Being able to give back the passion and love I for the game keeps me motivated to continue coaching."
Again, Hockey Manitoba would like to thank Ashley and Nicole for their hard work, determination and for having such a positive impact on female hockey in the province.
Share