October 24, 2018 11:28 am

|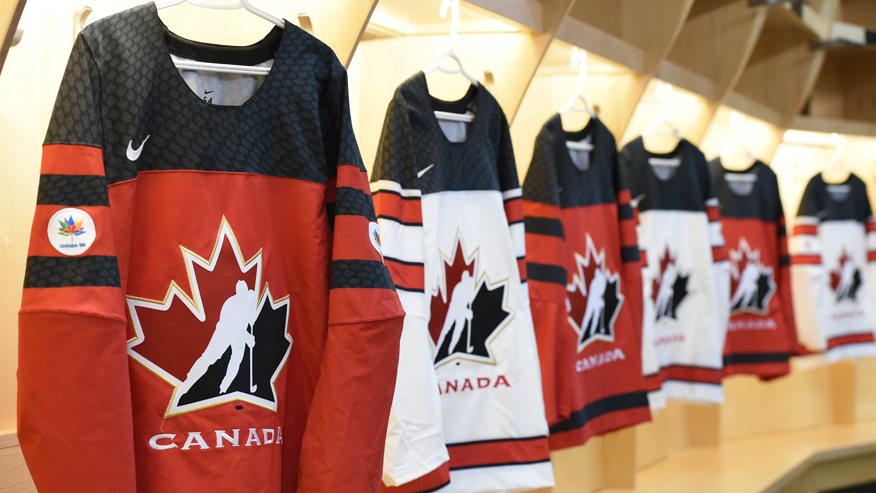 CALGARY, Alta. – Hockey Canada has announced the three Canadian rosters – Team Canada Black, Team Canada Red and Team Canada White – competing at the 2018 World Under-17 Hockey Challenge, Nov. 3-10 in Saint John and Quispamsis, N.B.
Manitobans on Team Canada Rosters:
| | | | | | |
| --- | --- | --- | --- | --- | --- |
| Team | Pos | First Name | Last Name | Hometown | Current Team |
| Canada Black | D | Daemon | Hunt | Brandon | Moose Jaw (WHL) |
| Canada Red | F | Seth | Jarvis | Winnipeg | Portland (WHL) |
With tournament action set to kick off in less than two weeks, the three teams will match up against the Czech Republic, Finland, Russia, Sweden and the United States as they compete for a gold medal.
The players chosen to represent Canada at the World Under-17 Hockey Challenge were selected by Brad McEwen (Whitewood, Sask.), head scout for Hockey Canada, with assistance from U17 POE management group lead Martin Mondou (Grand-Mère, Que./Shawinigan, QMJHL), as well as regional scouts Carl Bouchard (Quebec), Barclay Branch (Ontario), Barclay Parneta (West), Darren Sutherland (Atlantic), and Darrell Woodley (Ontario).
"After an exciting summer camp with 112 players gathering in Calgary and the selection of our 66-player roster last week, the unveiling of our three teams is one of the final stages as we prepare for the World Under-17 Hockey Challenge," said McEwen. "We are fortunate to be able to assemble three competitive, skilled teams, and we believe all 66 players will represent their country with pride in this prestigious event."
Team Canada Black, Team Canada White, the Czech Republic and the United States will play all Group A preliminary-round games at Harbour Station in Saint John, while Team Canada Red, Finland, Russia and Sweden will play Group B games at the qplex in Quispamsis. Quarter-finals will be played at both venues, Quispamsis will host two placement games, and both semifinals and medal games will be played in Saint John.
TSN and RDS, the official broadcasters for Hockey Canada, will air both semifinals on Friday, Nov. 9, as well as the bronze- and gold-medal games on Saturday, Nov. 10; please check local listings for details.
Prior to the start of the tournament, the teams will take to the ice in four New Brunswick communities on Nov. 1 at 7 p.m. AT for pre-tournament games. Team Canada Black will take on Finland at the 8th Hussars Sports Centre in Sussex, N.B., Sweden will match up against the Czech Republic at the Patrick Connors Rec Complex in Blacks Harbour, N.B., Team Canada White will play Russia at the Tri-County Complex in Fredericton Junction, N.B., and Team Canada Red will face off against the United States at the Garcelon Civic Centre in St. Stephen, N.B.
Single-game tickets are now available online for as low as $13 at HockeyCanada.ca/Tickets. A Harbour Station ticket package, which includes all preliminary-round games in Saint John, as well as both semifinals and the bronze- and gold-medal games, is also being offered for $99 and can be purchased at the Harbour Station box office.
The communities of Saint John and Quispamsis will receive the net proceeds from all ticket and ticket-package sales as a legacy of the event to support grassroots hockey within their communities as part of their hosting agreement with Hockey Canada. Recent editions of the World Under-17 Hockey Challenge have resulted in as much as $6 million in economic impact within the host communities.
More than 1,700 NHL draft picks have suited up since the inception of the World Under-17 Hockey Challenge (previously known as the Quebec Esso Cup) in 1986, including 13 first-overall draft picks since 2001 (Ilya Kovalchuk, 2001; Rick Nash, 2002; Marc-André Fleury, 2003; Alexander Ovechkin, 2004; Erik Johnson, 2006; Patrick Kane, 2007; John Tavares, 2009; Taylor Hall, 2010, Ryan Nugent-Hopkins, 2011; Nathan MacKinnon, 2013; Aaron Ekblad, 2014; Connor McDavid, 2015; and Auston Matthews, 2016).
For more information on the 2018 World Under-17 Hockey Challenge, please visit HockeyCanada.ca, or follow along via social media on Facebook and Twitter.
Share