October 15, 2020 10:00 am

|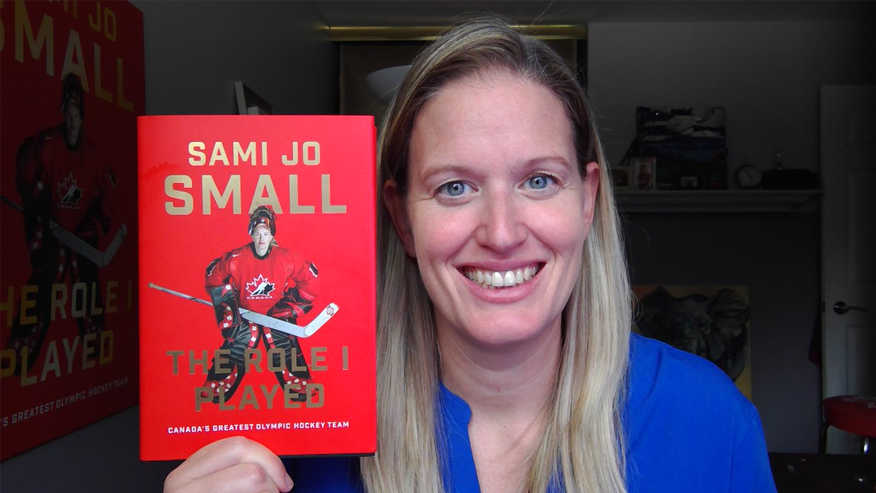 Winnipegger Sami-Jo Small recently released a memoir chronicling the ten years she spent as a goaltender with Canada's national women's hockey team, which included winning five World Women's Championships and two Olympic gold medals.
The pride of St.Vital originally started writing The Role I Played after the 2010 Vancouver Olympics as a back-of-the-room sales tool for her professional speaking career but she soon realized that her story was about much more than her personal experiences as a goaltender on the women's national team.
As part of the process of writing the book, Small went back and watched many of the games she played in for Team Canada, scoured through box scores that are available online and consulted her former teammates to make sure certain facts and stories in the book were accurate. She worked with an editor on a manuscript but it stayed on the shelf for several years after she gave birth to her daughter. About a year ago, she signed a publishing deal with ECW Press.
"For the book to be finally published is pretty surreal," Small said. "It's amazing to walk into a store and see it on a shelf. It's such a fulfilling sentiment for me because it really has been with me for so long and I'm excited that it's now in other peoples hands and they get to read the stories."
Small wants people who read the book to understand the sacrifices that members of the Canadian national women's team made in pursuit of their Olympic dreams but she also wants people to realize just how competitive those national teams were and how hard it was to make the national team in the first place.
"I often say that winning a medal at the Olympics is not as hard as winning a spot on the national team because that is what your daily grind is all about," Small said. "There is no job guarantee. It's not like the team is named in September and you get an entire season. The team is named right before the Olympic games so you're constantly fighting and pushing for a spot."
The fierce rivalry between Team Canada and Team USA has been well documented and after the USA upset Canada for the gold medal at the 1998 Winter Olympics in Nagano, redemption came four years later when Canada won gold at the 2002 Winter Olympics in Salt Lake City and then again in 2006 in Turin, Italy.
Small says that what may have pushed the team even more than their rivalry with the Americans was the amount of girls that started playing hockey in Canada after the Nagano Olympics in 1998.
"Our numbers started to surge and what that meant was your spot on the team was not guaranteed," Small said. "We had many rookies on the team in Salt Lake City that had not played in Nagano but that had pushed and battled and competed to make to be able to play for the team so that competition really elevated everyone to that next level."
Although she lives in Missisauga now, Small comes back every year to run her hockey school. She is continuously reminded how much the women's game has grown in the province over the past two decades.
"I am really proud of Manitoba for now being at the forefront of women's hockey. It's not just shown at the development levels but it's shown by how many girls are making it at the elite levels. Women's hockey is now placed on par with men's hockey in terms of value and that is just great."
The Role I Played is available in bookstores or you can purchase the book on Amazon.
Share