October 28, 2020 10:00 am

|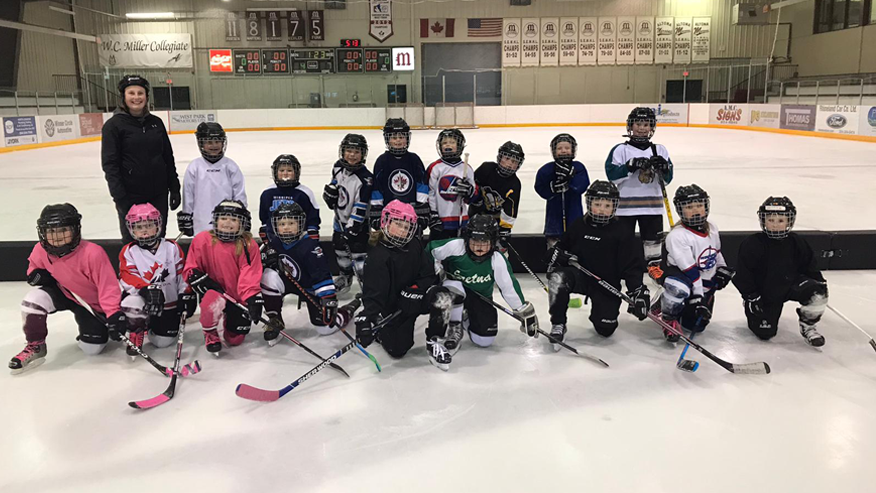 For the third consecutive season, the Altona Minor Hockey Association is running their Tuesday Night Skill Development Night which sees four age groups ( U7, U9, U11, U13) working on their skills on the ice in one night.
Altona's Tuesday Skill Development Night runs from October until March and begins every week at 4:15 p.m. with two teams on the ice with players rotating through skill stations (stick-handling, shooting, passing, small-area skills) for 30 minutes as well as a 30 minute power skating session.
The ice surface is divided in half with foam rink dividers at the red line for each session with each team using one side of the ice. There are a total of eight teams (one U7 team, three U9 teams, two U11 teams and two U13 teams) that take part in Tuesday Skill Night over four ice sessions with the last two teams hitting the ice at 8:15 p.m.
The skill stations are run by the coaches from the specific age groups while the power skating sessions are run by Kaitlyn Loewen who is the Head Instructor of the Altona Figure Skating Club and is also an instructor with the CanSkate Program on Mondays and Thursdays. She is from Winkler and drives in to Altona multiple times per week and has been involved with Tuesday Night Skill Night since its inception.
"We're trying to focus on the core skills. Kids need to learn skating so we set up a program where each kid on every team gets at least 30 minutes of power skating each week and Kaitlyn has been fantastic." said Rob Smith, the creator of Altona's Tuesday Night Skill Night and Director of Player Development for Altona Minor Hockey. Rob is also the Program Director and Head Coach of W.C. Miller Collegiate's high school hockey team.
There are just over 100 players total registered in the U7 to U13 age groups this year who are participating in Altona's Tuesday Night Skill Night and players are also encouraged to register for the CanSkate program on Mondays and Thursdays in addition to their regularly scheduled practices and games.
One of the big changes for this year's Altona Tuesday Skills Night is the ice is now divided length-wise as opposed to width-wise which has provided a better layout for skating.
"Kids are skating down and back, down and back, doing all kids of edge work and starting and stopping and it is really paying off. The kids are pretty tired though afterwards." Smith said.
Smith is coaching his 7-year-old son Axel with the Altona Maroons U9 hockey team this year in addition to coaching the W.C. Miller Collegiate high school hockey team and is committed to the program for many years to come.
"What we are seeing is that our kids are becoming better skaters. For example, our U11 Gold Team is a very good skating club and a lot of that has to do with the extra skating work they've got over the last few years. What we're also seeing is more efficiently run practices from our coaches and it has just been really beneficial to our players' development." Smith said.
If you are interested in learning more about Altona's minor hockey programs, you can visit their Programs page.
Share