|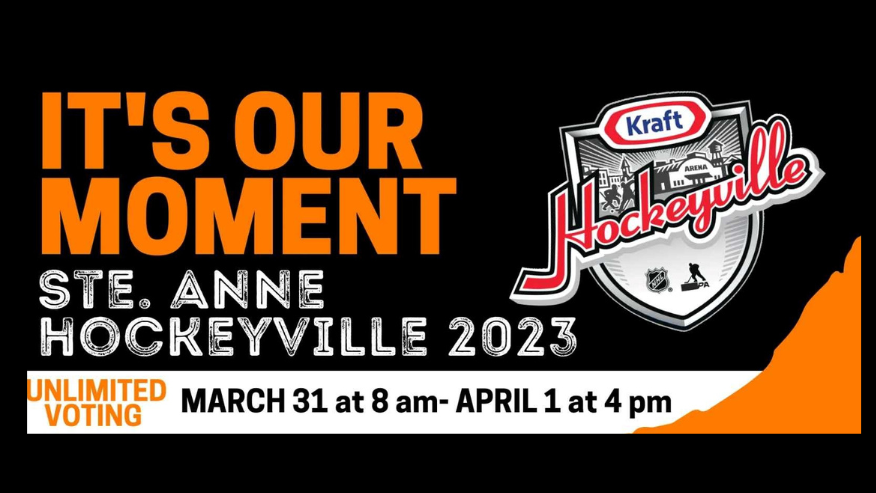 Ste. Anne, Manitoba is a finalist for Kraft Hockeyville 2023 and they need our help this weekend!
The unlimited 32 hour voting period will begin on Friday March 31 at 8:00 am CT and will run until Saturday April 1st at 4:00 pm CT.
The Grand Prize winner of Kraft Hockeyville 2023 will have an opportunity to host an NHL preseason game and receive $250,000 to be used towards arena upgrades, as well as the coveted title of Kraft Hockeyville 2023. This year's winner and each of the three-runner-up communities will also receive $10,000 in brand new hockey equipment to help more children play the game, courtesy of the NHLPA Goals & Dreams fund. Ste. Anne will also receive a guaranteed prize of $25,000 for arena upgrades for being a finalist.
The future of Maurice Chaput Arena is in the hands of hockey fans across Manitoba and Canada. The ice plant is on its last legs as the community needed to shorten their hockey season last year and this past year due to mechanical issues. Let's help save Ste. Anne's arena by casting our votes!
"Our town is going hard. Everybody's got signs on the back of their cars. They're putting up signs from here to Thompson. Somebody was driving to Thompson, and they were putting up signs at every town that they stopped in," said Christine Rivard, Ste. Anne Minor Hockey Association President. "We have people that are going to the Jets game on Friday night that will be wearing our QR codes so people can just scan their t-shirts. It's fun to be the underdog in it because we are going up against Quebec, BC and Ontario and we are just tiny compared to them. Whether we win Kraft Hockeyville or not, we need to fix the ice plant in our arena or we probably won't have an arena next year."
Ste. Anne will be hosting live events throughout the town beginning in the morning of Friday March 31st. Voting stations will be set up at various locations and minor hockey games will be taking place all day at Maurice Chaput Arena. 103.1 Virgin Radio's Ace Burpee will be broadcasting live from Ste. Anne on Friday morning beginning at 6:00 am until 10:00 am. Click here to tune in Live to 103.1 Virgin Radio's Friday Morning Show.
Your vote matters in supporting Ste. Anne! You can cast multiple, unlimited votes beginning on Friday March 31st.
For more information, visit KraftHockeyville.ca .
Click here for the Ste. Anne's Kraft Hockeyville Facebook page.
Share