|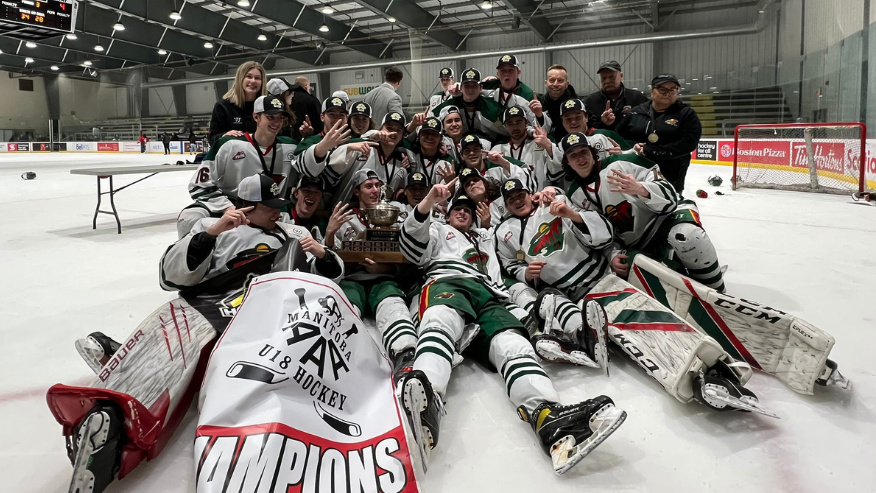 Hockey Manitoba is thrilled to announce that the Winnipeg Wild U18 AAA will host the 2024 TELUS Cup West Regional Under-18 Championship, scheduled to take place from April 4 – 7, 2024 at hockey for all centre. The Wild will host the top teams from Northern Ontario, Manitoba and Saskatchewan with the winner of the tournament advancing to the 2024 TELUS Cup Under-18 Club Championship.
The Wild are reigning, back-to-back Manitoba U18 AAA Hockey League Champions, having recently won the 2022 – 2023 Under-18 AAA Provincial Championship. The Wild represented Manitoba at the 2023 TELUS Cup West Regional in Warman, Saskatchewan this past April.
Hockey Winnipeg has an established history of hosting successful events and they will undoubtedly do an exceptional job as this year's tournament host.
"Hockey Winnipeg is thrilled that the 2024 TELUS Cup West Regional will be held in our city," said Ian McArton, Hockey Winnipeg Executive Director. "The Winnipeg Wild are very worthy hosts as the reigning back to back Provincial Champions in Manitoba. The Winnipeg Wild, Winnipeg AAA Council, Hockey Winnipeg and the world-class hockey for all centre are going to work together to put on an exceptional event to showcase our U18 AAA players and determine who will represent our region at the 2024 TELUS Cup."
"Hockey Manitoba would like to congratulate the Winnipeg Wild for being selected as the hosts for the 2024 TELUS Cup West Regional U18 Championship," said Hockey Manitoba President Bert Dow. "The Wild organization should be extremely proud of the hard work they put in during the bid process. We are very excited for this event and confident that the Winnipeg Wild will do an exceptional job as this year's tournament host."
About the TELUS Cup
Since 1974, the best under-18 teams in the country have gathered to compete for Canada's Men's U18 National Club Championship. Five regional champions join the host team in a week-long marathon to crown the very best in Canada. The LHM18AAAQ champions advance directly to the TELUS Cup as Quebec representatives, while the other four regional spots are filled by the champions of Pacific (B.C. and Alberta), West (Manitoba, Saskatchewan, NW Ontario), Central (GNML, MHAO, GTHL, OMHA, HEO) and Atlantic (N.S., N.L., N.B., P.E.I.).
The TELUS Cup has been a starting point for hundreds of NHL careers; alumni include a trio of first-overall picks (Gord Kluzak, Wendel Clark, Sidney Crosby), and a who's-who of Canadian stars past and present – names like Brind'Amour, Drouin, Eberle, Francis, Letang, Rielly, Roy, Sakic and Yzerman.
Share